---
When you buy  Godfrey's, you can trust that hundreds of years of experience plus the latest in scientific research have gone into producing the best possible product for your animals. Their expert team—which includes professional nutritionists with Ph.D.s—  works hard to make sure that each formulation achieves exactly what it is supposed to. We offer competitively priced bagged feeds and store blends for all types of livestock.
---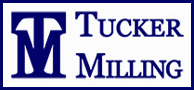 At Tucker Milling, we produce a complete line of Performance Based Feeds for livestock, wildlife and pets.
---
---

Your animals are a central part of your life so you need to know you can trust the quality of feed products you give them.   Purina takes countless steps to make sure you can always count on them.